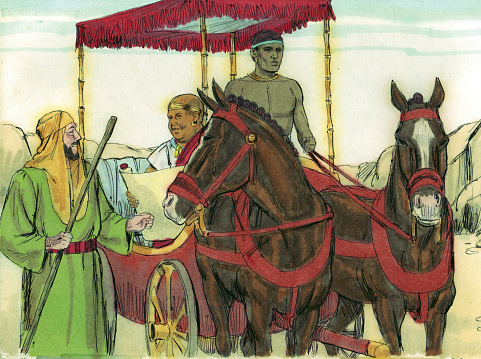 "And as they were going along the road they came to some water, and the eunuch said, 'See, here is water! What prevents me from being baptized?'" (Acts 8:36, ESV).
Introduction
This passage is a favorite for people who believe in baptismal regeneration. I would hear this passage growing up in defense of the belief that baptism saves people. The fact that verse 37 is omitted from the earliest verses was a favorite point of many of my college professors. The Acts 8:37 says, "'If you believe with all your heart, you may.' And he replied, 'I believe that Jesus Christ is the Son of God'" (ESV).[1] My professors would say that since this verse is omitted in the earliest manuscripts, verse 36 proves baptism is what is necessary for salvation.
This is the only reason I can think of for why Norm Fields lists this as his fifth answer to Andrew Rappaport's question if baptism is necessary for salvation in his email. Andrew Rappaport expressed his view that Norm Fields probably used verse 37 as his defense for baptismal regeneration, but my experience suggests that this might not be the case. Either way we will look at what the passage says and the immediate context to see how to interpret it.
What the Passage Says
Here is the passage in its totality:
Then Philip opened his mouth, and beginning with this Scripture he told him the good news about Jesus. And as they were going along the road they came to some water, and the eunuch said, "See, here is water! What prevents me from being baptized?" And he commanded the chariot to stop, and they both went down into the water, Philip and the eunuch, and he baptized him. And when they came up out of the water, the Spirit of the Lord carried Philip away, and the eunuch saw him no more, and went on his way rejoicing (Acts 8:35–39, ESV).
As can be seen above, Philip explains the gospel to the eunuch, the eunuch asks to be baptized, and Philip baptizes him. The thing the baptismal regenerationist does is argue from the white spaces. Nowhere in the passage does it say baptism is necessary to be saved. There really isn't much to say after that. The only way to get baptismal regeneration in the text is to bring in preconceived ideas into the text.
Verse 37, which is an unlikely textual variant, doesn't help much either if the baptismal regenerationist is looking for a proof text. The reason for this is because of the fact it says, "If you believe with all your heart, you may" (ESV). Belief/faith is repeatedly taken in Scripture to be what saves a person (John 1:12-13, Ephesians 1:13-14, 2:8-9, etc.). One commentator said about this passage,
It is not found in the early manuscripts of Acts and seems to be a later scribal addition. It is given in a footnote of the NIV and consists of a profession of faith on the part of the eunuch. Evidently a scribe felt this was lacking and so provided the missing confession of faith.[2]
This is not the proof text the baptismal regenerationist is looking for. It is also not something someone can use to refute baptismal regeneration. However, it does prove early Christians believed faith was what saved people and happened prior to baptism.[3]
Immediate Context
The full scene is Philip being led by the Holy Spirit to share the gospel to the Ethiopian eunuch who is reading Isaiah 53 (vv. 26 – 33). Philip asks the Eunuch if he understands what he is reading and explains the passage to him by sharing the gospel and talking about Jesus Christ (vv. 30 – 35). After the Eunuch asks to be baptized, he and Philip go their separate ways (vv. 36 – 40). Again, there is nothing in the passage to prove baptismal regeneration. In fact, it seems the opposite.
Conclusion
Baptismal regenerationists have to grasp at straws to defend their position that baptism saves people. It is found nowhere in Scripture. They have to read into the text to make it say what they want it to say. It is really sad. The reason the Ethiopian Eunuch wanted to be baptized was to identify publicly with Christ, be accepted in the Church, and have an occasion to publicly repent of his sin and confess Jesus Christ is Lord. It wasn't something that saved him. It was something to show that he was saved. It is no different than when Cornelius and the other believing Gentiles in his house were baptized,
While Peter was still saying these things, the Holy Spirit fell on all who heard the word. And the believers from among the circumcised who had come with Peter were amazed, because the gift of the Holy Spirit was poured out even on the Gentiles. For they were hearing them speaking in tongues and extolling God. Then Peter declared, "Can anyone withhold water for baptizing these people, who have received the Holy Spirit just as we have?" And he commanded them to be baptized in the name of Jesus Christ. Then they asked him to remain for some days (Acts 10:44–48, ESV).
            Please pray for people trapped in the heresy of baptismal regeneration. They are relying on their own good works to be saved. Salvation is by grace alone, through faith alone, in Christ alone, for God's glory alone, revealed in Scripture alone. It is not by works (Romans 3: 21 – 31).
If you want to dive deeper in your understanding in biblical interpretation, check out the resources section at strivingforeternity.org/store. There are tons of biblical resources to help you grow in your faith. Lord bless you.
[1] Omitted in the plain reading but in the footnotes. Blue Letter Bible, Accessed March 2, 2022, https://www.blueletterbible.org/esv/act/8/1/s_1026001
[2] John B. Polhill, Acts, vol. 26, The New American Commentary, (Nashville, Tennessee, Broadman & Holman Publishers, 1992), 226.
[3] Full Ibid.